Celebs with Erica Harel Bags
Just a few reviews from customers around the world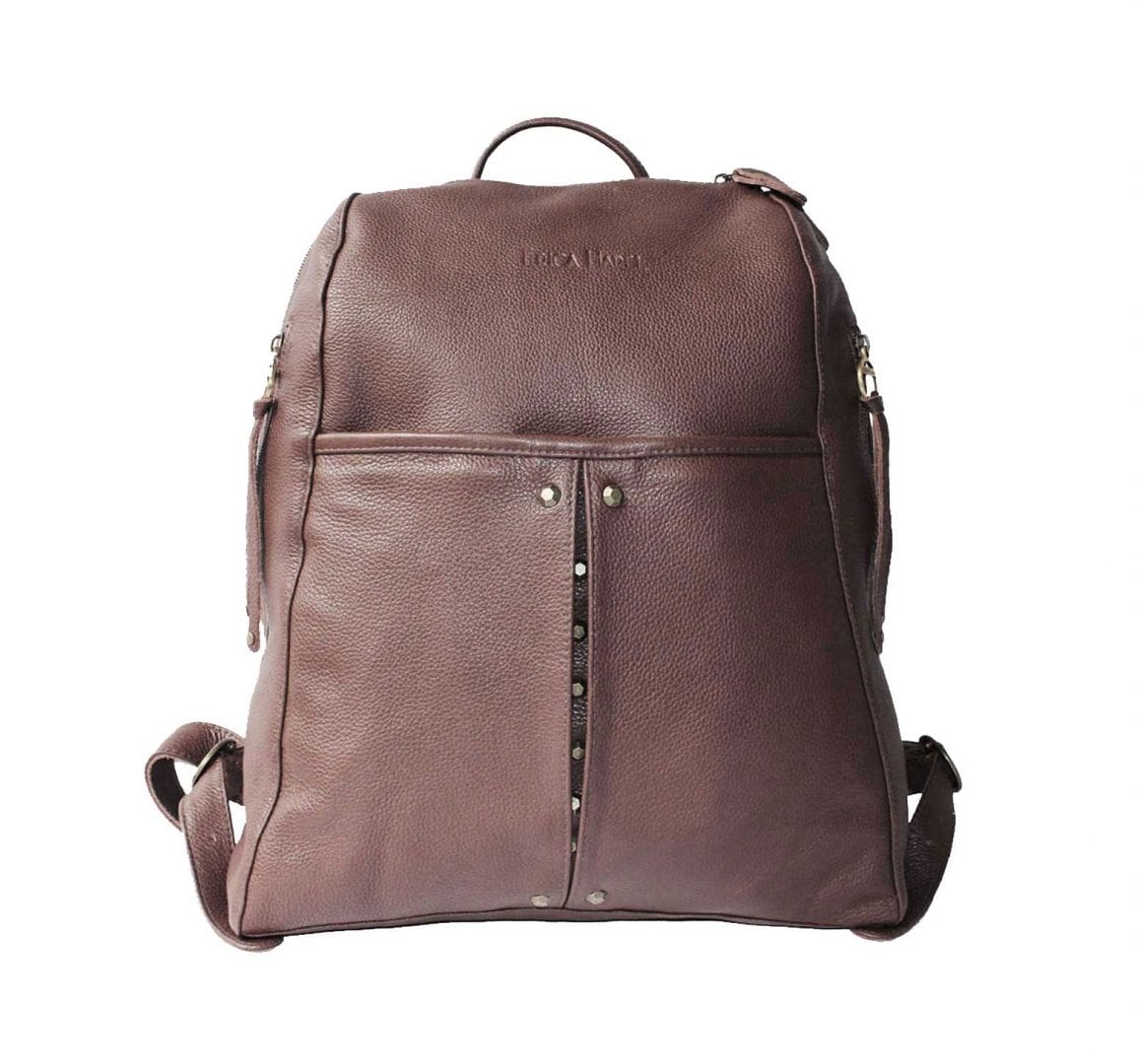 Stephanie
Boston
"I'll be surprised if you don't sell a million of these. Best bag I ever had."
Claudia
Australia
"Thank you very much Erica. After a long, long search I have finally found the perfect Backpack–Soft, perfect size, perfect craftsmanship and good looking. I certainly understand why you are one of the designers to watch."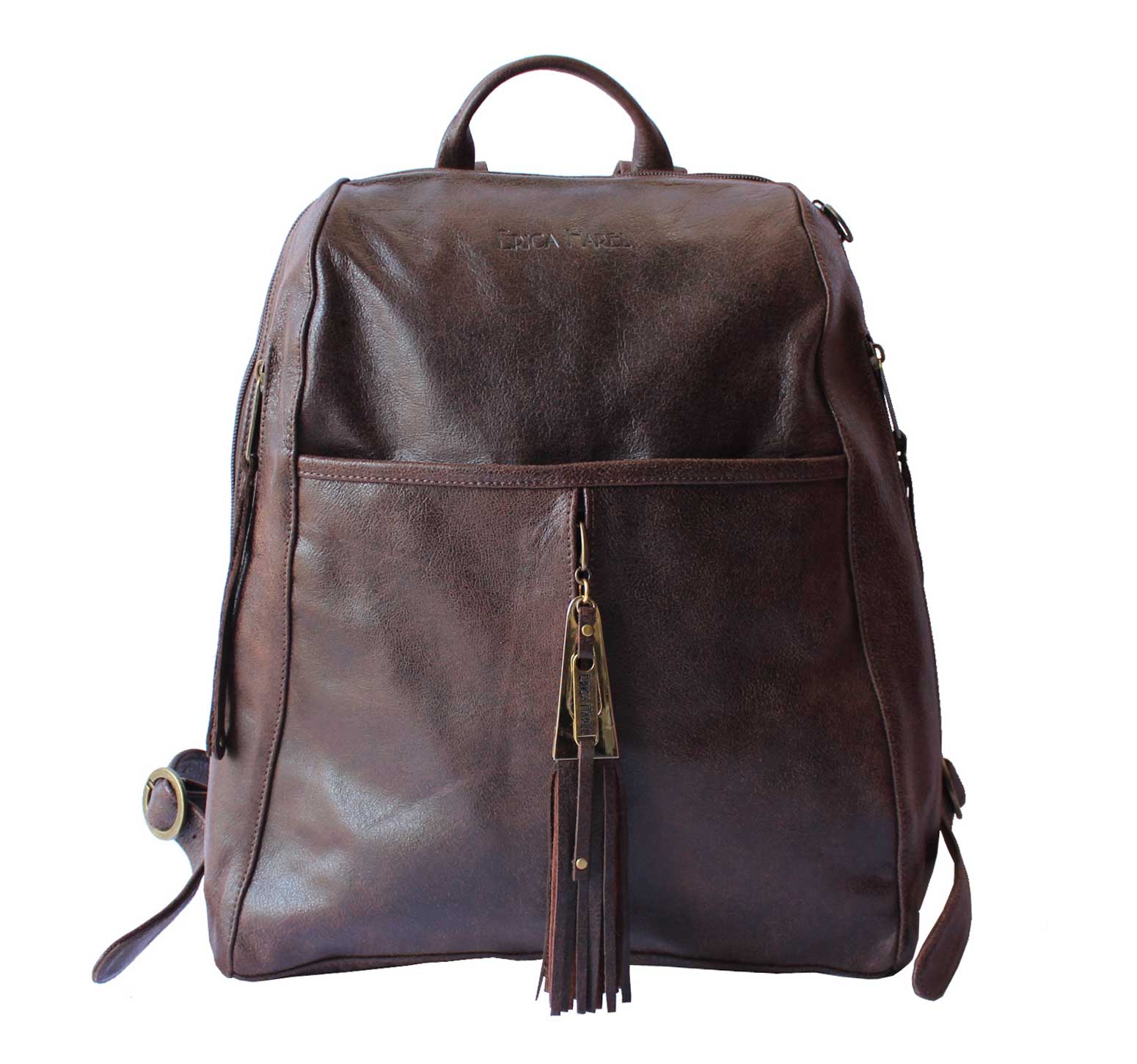 Renana
Tel Aviv
Ever since I purchased my bag it's the only one I use (unfortunate considering the number of bags I already had). It's super pretty, incredibly smartly designed (you won't believe the pocket organization) and works with everything. Objectively the best backpack in the world 😊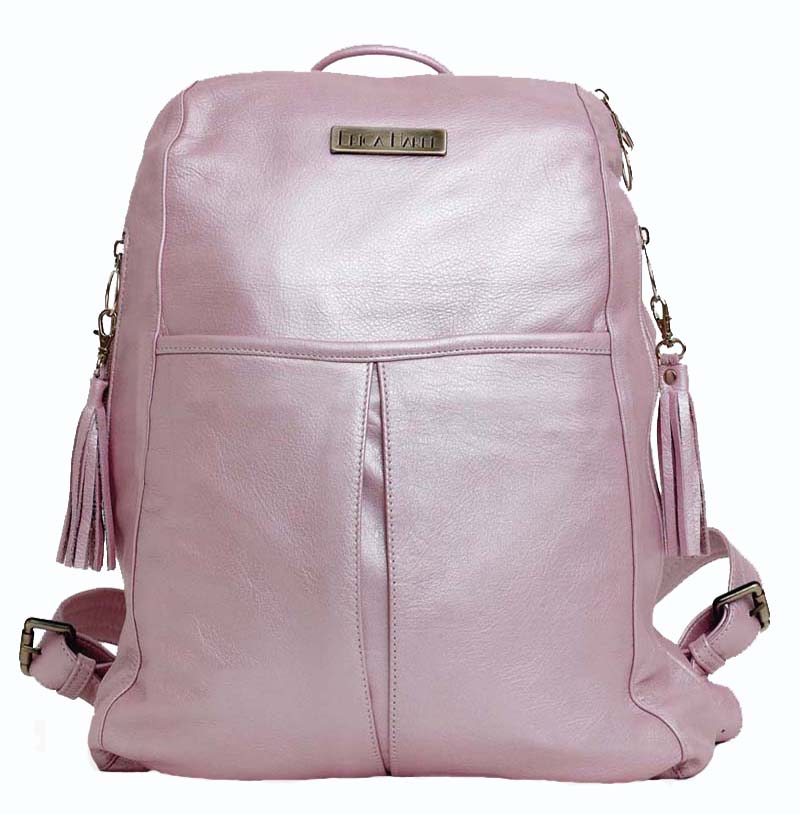 Laney
New York
"OMG, Erica Harel rocks. This is my second backpack purchase. The quality is AMAZING. The leather is super SOFT. The design is INCREDIBLE. The pockets inside are ENDLESS. What a wonderful brand — True craftsmanship. Thank you."
Diana
New York
"Best. Bag. Ever. I don't write product reviews often (at all), but I felt compelled to do so in this case. This bag is perfect. The leather is supple. The size is goldilocks. The pocket design is so very smart. I'm definitely buying a second one!"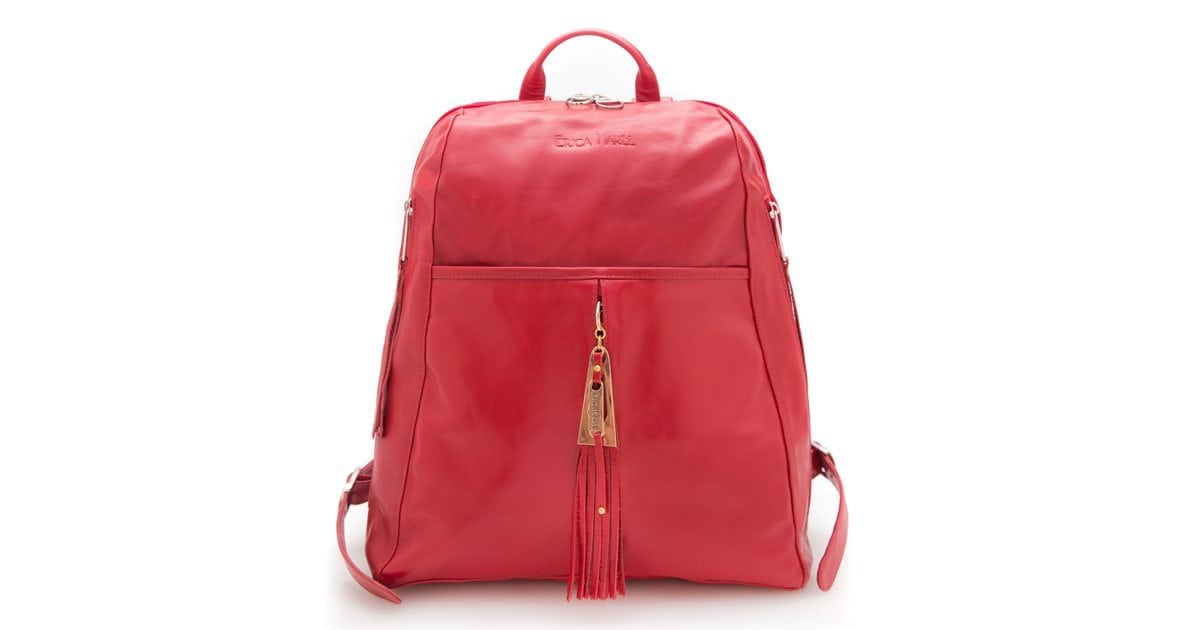 Holly
New York
"Never in my wildest imagination did I think this backpack could be so awesome!!!! The leather is a Gorgeous color. … has tons of pockets … lighter than I thought it would be."
Kerri
Australia
"If you are looking for a backpack that is big enough, but not too big, has plenty of pockets for all your bits and pieces and looks great, this is the one for you."
Miriam
California
"Until you are lucky enough to own one of these backpacks you don't know what luxury is. Leather like silk, totally lined, no detail overlooked."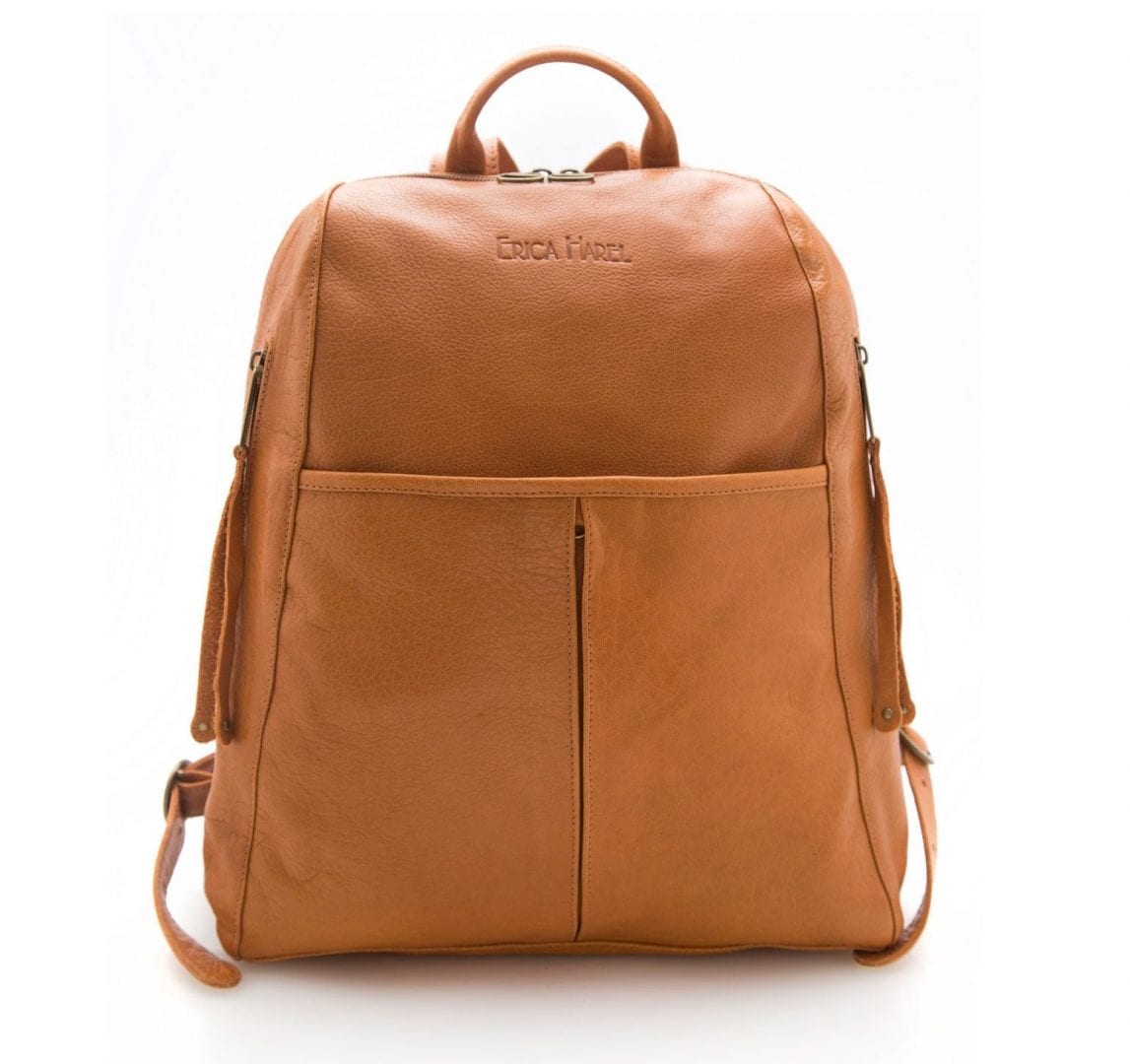 Gayle
NYC
"Oh Erica! You are killing me. I could become addicted to your bags!"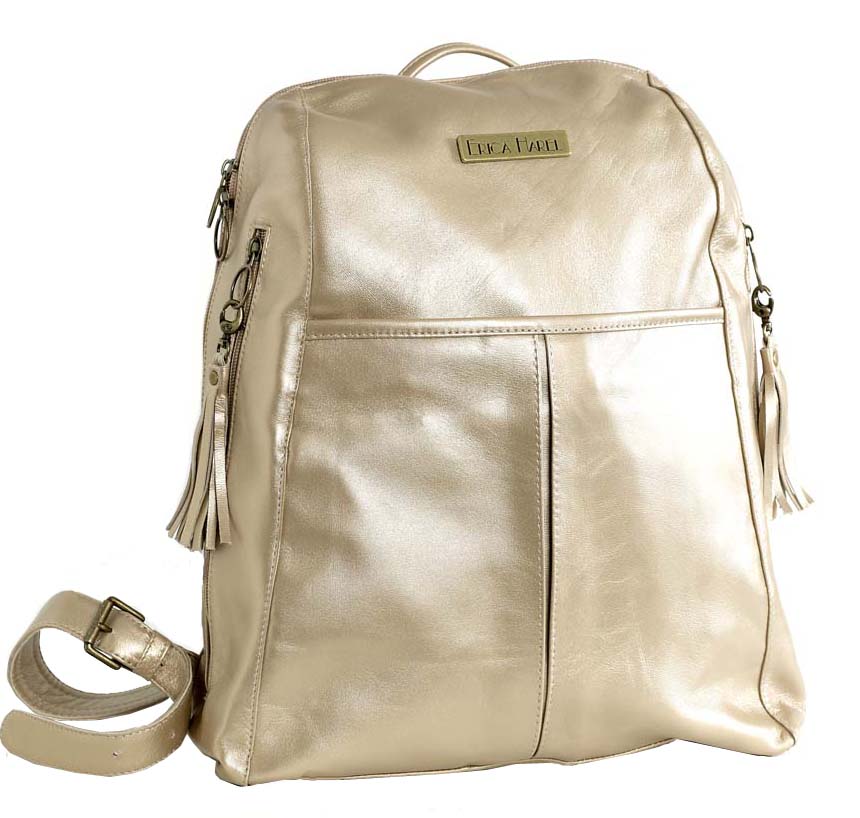 Kerstin
Germany
"Fantastische Aufteilung und Verarbeitung! Sehr durchdacht, auch Innen bieten sich viele Möglichkeiten, den Inhalt zu verstauen."
Wubby
Netherlands
This backpack is everything I could have wished for and more! It has pockets for everything you can possibly imagine and in all the right places. Even when filling it up completely -a lot of stuff fits in... it still looks compact ... It feels very comfortable to wear even when carrying heavier things. The leather is soft and supple.
Jia
Vancouver
Best bag I have ever had! Erica and your staff, you are really artists! I appreciate my bag everyday. And thanks for the wonderful gift! Best shopping experience ever in Etsy! 
Downtown Magazine
NYC
New York City's "Downtown Magazine" listed the Erica Harel Downtown Backpack among the Top 10 Fashionable Backpacks for NY Women on the Go.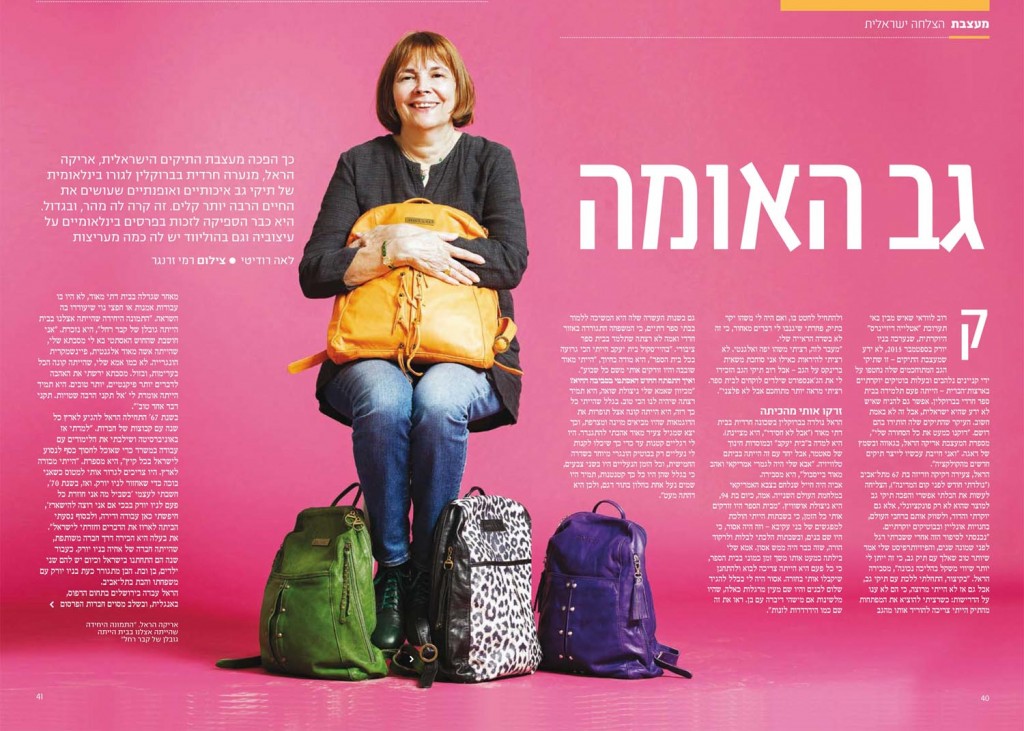 Magazina
Israel
March 2016 – Magazina What's better than a double-spread article in a glossy lifestyle magazine? Two double spreads!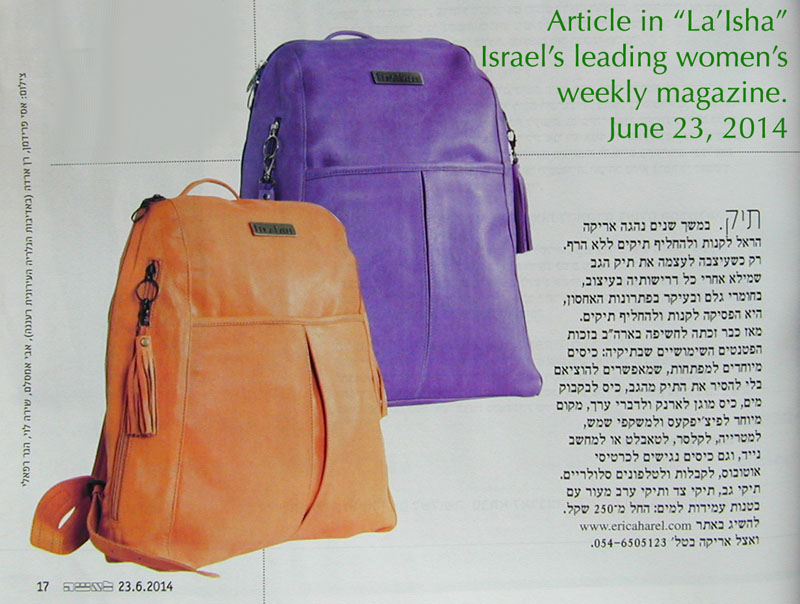 La'Isha Magazine
Israel
June 23, 2014 Article in "La'Isha" - Israel's leading women's weekly magazine.